The number of open full-text files has exceeded 1000!
19 Jun. 2012
---
◆ The number of open full-text files has exceeded 1000!

On March 7th 2012, the number of full-text files accessible to the public by the T2R2 system has exceeded 1000. We would like to express our sincere gratitude to all the researchers for your cooperation.
T2R2 system will continue to disseminate the research progress of Tokyo Tech and its researchers.
We appreciate your continuing support for T2R2 system, and ask you for further cooperation in data input and file registration.


◆ Here is the memorable 1000th article!
Title: An Analysis of Compound particles on Japanese Textbooks of Science and Technology
Author: Kikuko Nishina, Akiko Takeda
Journal: Humanities Review
Volume, Page: Vol. 19, pp. 139-152
We would like to introduce Dr. Kikuko Nishina, a professor emeritus (a professor at International Student Center at that time) who has registered the 1000th open full-text file.
Dr. Nishina

Please tell us the overview of the 1000th full-text file which has been made open to the public.

This paper, through an examination of Japanese university textbooks, aimed to determine which parts of language proficiency are required in order for international students in science and engineering fields to comprehend texts and papers from their fields. We focused on particle equivalents, such as ni-oite, ni-kanshite and to-tomoni, that are important for proper understanding of the sentence structure of written Japanese, and presented a syllabus and teaching method incorporating them.


By whom do you wish your T2R2 open full-text file to be read?

Even though most researchers at Tokyo Tech belong to the fields of science and engineering, I hope that our research will help to bridge the gap between the humanities and science and engineering fields. I expect researchers coming from fields such as educational technologies and linguistics to read our paper. Additionally, I wish researchers other than those at Tokyo Tech, who study second language acquisition, will read it as well.


You have retired from Tokyo Tech in March of this year. Do you have any memorable episodes while you were in Tokyo Tech?

I had the good fortune of being able to do research that was truly interdisciplinary, involving both the humanities and science. I enjoyed working with researchers from different disciplines such as engineering and science at Tokyo Tech. Event with their busy schedules, they gave us their full cooperation and were willing to spend time making Japanese learning materials for international students. I was moved by their sincere and honest attitude towards their research as well as their efforts to help us.


What message can you give to young researchers and students?

As mentioned previously, the sincerity and honesty of current and past instructors of Tokyo Tech is firmly rooted in its culture, and should be something every student or young researcher strives to attain. Also, I think everyone should step out of their comfort zone in their field of specialty and broaden their mind through contact with other fields and disciplines. I recommend everyone follow their curiosity with young and fresh energy. I believe that by broadening your knowledge of philosophy, literature and the arts, you will cultivate an attitude towards life as well as research that will forever change and improve the way you do research in your chosen field.




Thank you very much, Dr. Nishina, for taking time in your busy schedule to give us your comments.
T2R2 (Tokyo Tech Research Repository)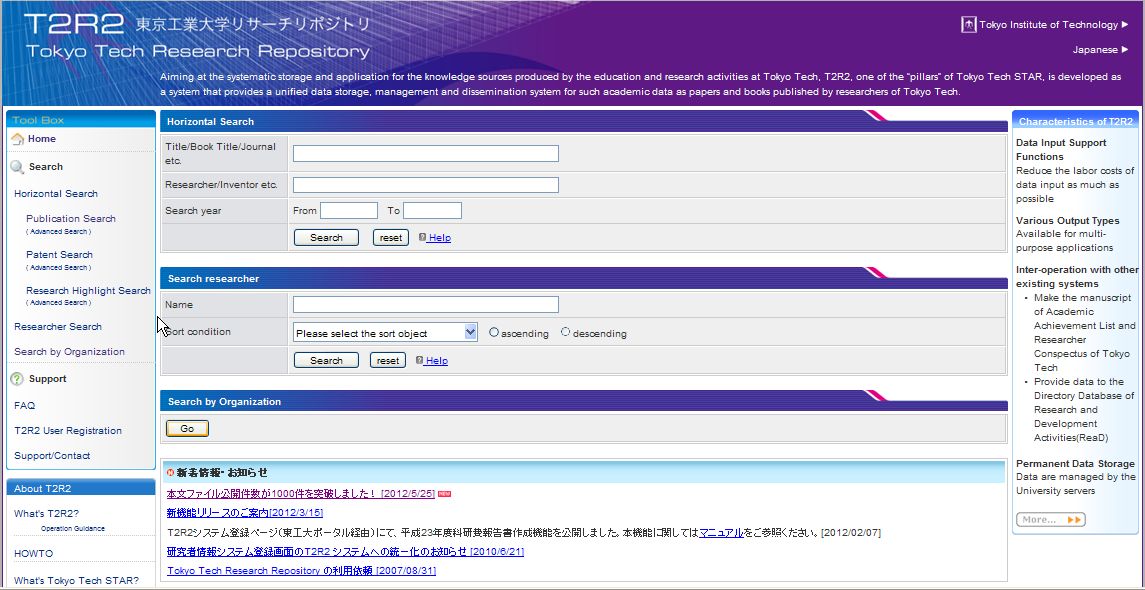 ◆ If you register your full-text files in T2R2 system, there are merits such as...

The registered files will be permanently stored and managed by the university.


The registered files can be managed in the unified data storage.




◆ If your full-text files are open to the public by T2R2 system, there are merits such as...

The articles which are registered in T2R2 can be found by search engines such as Google and Google Scholar, so the articles can be accessed by researchers all over the world, and thus the research will be widely recognized. When the full-text files are open to the public, the number of citation index may increase by gaining new readers.


◆ In order to publish your full-text files in T2R2 system...


Access T2R2 system registration site from Tokyo Tech Portal and click "Publication management" in Tool Box located on the left side of the screen, then click "New data entry form" to proceed to the data registration screen.





Click "File upload" located at the top of the screen to register your full-text file, and choose "Wish to disclose".



After the copy right of the publisher is checked by the office, the full-text files registered as "Wish to disclose" will be open to the public accordingly.
To check the progress of the publication, please refer to the message under "File" on the data registration screen in the T2R2 system.


T2R2 system registration tip
・You may use "New data entry wizard" in the Tool Box.
・You may designate an agent to register your article for you.


◆ When you register your full-text files in T2R2 system,

make sure to check with your coauthors before you register if you wish to choose to open publications to outside Tokyo Tech.
you may need to replace your files, or you may not be able to publish your files depending on the regulations of the publishers.

---